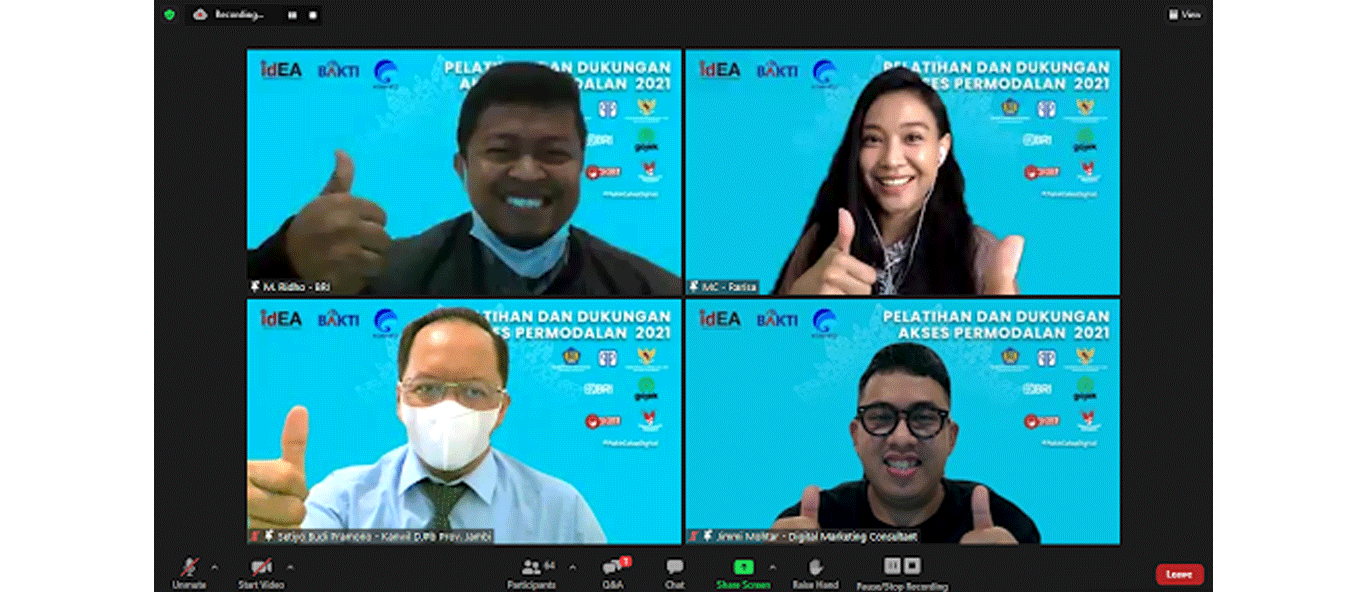 #idEa, #BAKTI 2021, Kominfo
Training and Support for Access to Capital BAKTI Kominfo 2021 8 Cities
As a follow-up to the National-Scale BAKTI Kominfo Training, BAKTI Kominfo together with idEA again held training for MSME actors in the culinary field. This time, the training was given exclusively to 25 selected participants from 8 Cities; Labuan Bajo, North Lombok, Manado, Bone Bolango, Jambi, Lampung, Tanah Laut and Denpasar. No longer online, this advanced training is designed to be run offline while still following the health protocol directives from the Government. The training is scheduled to take place from 22 June 2021 to 15 July 2021.
However, seeing the surge in cases of Covid-19 virus infection, further training for these 8 cities had to be temporarily suspended when it was only running for the first 2 cities, namely Labuan Bajo and North Lombok. The enthusiasm of the participants who had received invitations to attend the training in the next 6 cities had to be extinguished.
However, this disappointment did not last long. After various considerations, BAKTI Kominfo and idEA agreed to immediately resume online training. In order to ensure that participants still get the maximum information even though they do not meet face to face with the presenters, this training is designed to be divided into two; training sessions via zoom where resource persons deliver material, and consultation sessions via whatsapp groups where participants can ask questions and consult directly with each resource person more freely.
In addition, the training which was initially targeted at only 25 participants from each city in order to continue to apply this health protocol has also undergone changes. As long as it is run online from their respective homes, of course it will be more meaningful if many MSME actors can participate in the training and are assisted with the material provided, so that the maximum opportunity is opened for MSME actors who are domiciled in 8 target cities of the training to become participants.
For MSME actors wherever they are, don't give up on the situation; the show must go on!. Let's continue to add knowledge so that we can be more observant in seeing the opportunities and opportunities that exist.
For information on other business development training, follow idEA's social media accounts at @ideassociation and @banggabuatanindo.
translation-not-found[latest_article_idea]